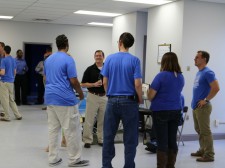 The digital marketing agency opens their doors to automotive dealers to discuss the latest trends in online car shopping and search engine behavior.
Reading, PA, April 11, 2017 (Newswire.com) - ​DaBrian Marketing Group, LLC hosts a Google Partners Connect Event that live-streams an informative digital marketing seminar from the famous search engine and answers questions from local auto dealers. Take 30 seconds and register to attend.
On April 19 at 11:30 AM, the team of digital marketers at DaBrian Marketing will welcome business representatives from automotive dealerships in the surrounding areas of Berks, Lehigh, Montgomery, and Chester Counties to their office in downtown Reading, PA:
500 Penn Street Suite 201
Reading, PA 19602
At this event: DaBrian Marketing Group's team will dedicate time to educate automotive dealers on the online car shopping behavior that is significantly impacting the sales and growth of auto companies.
While online behavior may not seem to change or be relevant to many businesses, it is actually a continuously evolving phenomenon that changes with technological advances. A recent article by Think with Google reports that the search interest for images of car brands' products has increased by 37%, year-over-year (data from Google Trends).
This is just one example of the digital shift in car shopping and browsing. There are many nuances to the ways in which consumers search, locate, and buy their automobiles in 2017. Such information is a) critical to the profitability of auto dealers and b) the reason that DaBrian Marketing Group is live-streaming of a special seminar from fellow marketers at Google's headquarters.
Attendees of the event benefit from an additional Question & Answer session about the exclusive qualitative lessons and quantitative figures from Google. The team of digital marketers will openly discuss the factors that must be considered when creating and implementing a digital marketing strategy for the automotive industry.
Interested auto dealers, resellers, mechanics, repair companies, and service providers are highly encouraged to attend this event as the agency offers exclusive insight for the digital marketing landscape.
To attend, simply register online in seconds. Lunch will be provided by DaBrian Marketing Group.
About DaBrian Marketing Group, LLC
Founded in 2008, DaBrian Marketing Group, LLC is a full-service digital marketing agency that provides original and strategic digital marketing solutions for businesses. The team at DaBrian Marketing creates brand awareness, increases lead-generation, and identifies insights that improve sales growth. Services include web analytics, creative design, digital branding, pay per click (PPC) advertising, search engine optimization (SEO), social media marketing, and web design. Company headquarters is centrally located at 500 Penn Street, Suite 201, Reading, Pennsylvania 19602. For more information about DaBrian Marketing Group, visit DaBrianMarketing.com or call 610.743.5602.
Source: DaBrian Marketing Group, LLC
Share: